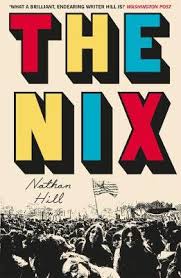 In the Nix, which the author was writing for ten years, another side of America is presented. It goes through all the stereotypes we are used to see in American culture or America projects for itself.
But first of all the book forms a world of understanding.
We could characterize it literary anthropology, if we can call it this way, because through literature it gives a voice to those who have not been heard by the writers of modern American history or whose voice has been distorted and misinterpreted. It makes a cut in the true soul of America, which in its deep existence had many wounded stories. Through the great events Nathan Hill composes the true stories.
Joke, alternating with seriousness, irony and sadness is a real diamond in the narrative. Criticism comes without easy characterizations. The bad guys are the mirror of the good guys and vice versa. On the one hand, we follow the path of a young woman from an Illinois county, who crosses the front in the 1960s from her adolescence to adulthood, from provincial conservatism to the revolt of the great Chicago demonstrations. Her decisions are made as if someone else is taking them for her, signaling a path that starts from the secret past to the disoriented future. On the other hand, the story of her Norwegian immigrant father unfolds, while at the same time we see the complicated relationships that her son experiences as he tries to find his mother again.
Through the lives of the heroes, all the decades of America pass and we understand or realize how children learn to be sad and happy, to decide and accept the decisions of others. In the midst of all this crowd, Ginsberg's passage runs through an aura of events, desires and dreams, and expectations, and becomes the symbol of the future that never came.
The protagonist Samuel Andresen-Anderson through his own narrative finally discovers the collective identity of an entire generation in America, which was either exterminated in expansionist wars or in internet labyrinths or in troubled relationships and absences. After all, America is not as foreign and hostile as we think. It laughs and cries like us. The Norwegian airy Nix comes and enchants the reader, capturing him in the narrative.
Anastasia Karavasileiou