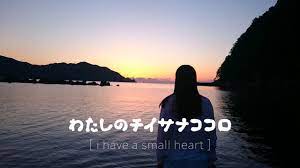 Megumi Ueno's short film below is called "I have a little heart". It is her pilgrimage to a common Shrine of Buddhists and Shintoists.
She attends a ceremony and wonders about the speed and easiness with which we cross the world today, failing to stand like other pilgrims in the beauty and diversity of the worlds.
She observes herself and confesses that she believes in God, but not constantly, and that those who are absolute about their religious faith are absolute towards life, and come, in the name of their own "orthodoxy", to kill others and be killed.
She watches the ritual, where the priests of the two religions join their flames, to raise a common offering to Heaven. The connection of Heaven with the Earth, the natural landscape and the Spirituality that the natural environment acquires, transform the natural landscape into an entity, as is the case in many religions and spiritual journeys. We could talk about Spiritual Ecology, a trend that has gained ground around the world in recent decades.
You can open the available subtitles, with the CC button:
Author of the article: Anastasia Karavasileiou